Airlines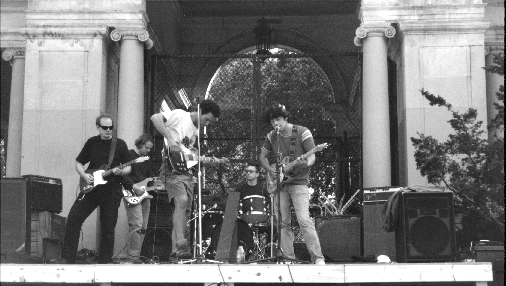 Above: Airlines live in Union Square Park.
L-R, J. Neilson, D. Roby, J. Arcidiancono, T. Kelley, J. Tanzer.

John Tanzer - Vocals, Guitar, Bass
Joe Arcidiacono - Vocals, Guitar, Bass
John Neilson - Guitar, E-bow
Tom Kelley - Drums, Percussion
David Roby - Bass


Airlines (originally known as "Burning Airlines") were the best-known of the Quixotic roster when the label began; already well-established band on the NYC underground scene by the early 90s, they got their start way, way back in 1987, with Jim Derogotis on drums, Jim Quinlan and John Tanzer on guitars, and John Neilson on bass. This line-up would release two great singles on the Minneapolis-based Susstones label--"Test" b/w "Ambulance Dance" and "For Richard" (these are of course now way out of print, but well worth tracking down). Internal differences would lead first to the departure of Derogotis, who was immediately replaced by a drum machine (he would go on to write about music for Rolling Stone--until a bad review of Hootie and the Blowfish got him canned--and the Chicago Sun Times). This version of Airlines recorded a number of tracks at Fun City with Wharton Tiers, but none has seen the light of day, at least not yet.

Shortly thereafter Jim Quinlan departed to form Lid. The two Johns soldiered on, recruiting new members as needed (including at times Debby Schwartz of Aquanettas fame and Chad Swanberg on bass), until the Airlines membership eventually solidified around 1991. This included Joe Arcidiacono, a deft guitarist and bassist, who also sang and contributed songs. Tom Kelley was a unique drummer, with a tiny jazz kit and a jazzer's sense of timing and syncopation. When Debby Schwartz fell and hurt her wrist at the Airline's "Socrates Sculpture Garden" gig in Brooklyn, David Roby was recruited as a able replacement.

Airlines now had a three-guitar frontline, with Neilson, Arcidiancono, and Tanzer all employing various effects--fuzzboxes, e-bows, echo, phasing, volume swells, etc.--to create a swirling sonic attack.
---
Their first Quixotic single was
"Steady Goes" b/w "No. 2" (catalog number QX003-7). These tracks were recorded at Excello Studios in Brooklyn, NY, in April 1992. Behind the board was Chad Swanberg (later to form Halcion).

Billboard, our nation's premier music trade mag decided to review the disc even though they freely admitted it had little commercial potential:
"Dueling guitars give the song crazy rhythms and cool melodies, while hazy, double-tracked vocals and bubbly bass put the power in this pop. Easily absorbed into the memory, but elusive enough to require multiple listens."
---
At the other end of the music criticism spectrum was the crazy world of the fanzines. You'd have to go to See Hear to find these things, usually very home-made magazines xeroxed and stapled together and mailed out to the various small record shops and bookstores in college towns and big cities. Some of them were more professionally done, and there was also Option Magazine, a glossy that had a purported circulation of 10,000 at its height. The 'zines were fairly enthusiastic about the Airlines record as well:
Second Skin (#4 Fall 1992, Alyssa Isenstein)
"'Steady Goes' is a neat little song that dances like kids around a maypole. 'No.2' sounds sort of like Talking Heads might sound if they were a really good indie rock band. This single is a great document of another splendid band that dares to call New York City home."
Outlet (Spring of 1993, Trev Faull)
"This quartet features John Tanzer from The Giant Mums, and it's a real snake driving getting into top gear with its dual guitar interplay. This is a super whiz of a 45."
Baby Sue (#12 Spring 1993, Don W. Seven)
"This, the third single from Airlines, is a pure pop delight. 'Steady Goes' (the A side and my favorite) features a myriad of electric guitars that will have your head reeling and a happy little tune that'll have your toes tapping."
Your Flesh (#27 Summer 1993, David Sprague)
"John Neilson's Joy Division-meets-the Astronauts 'Steady Goes' has several legs up on the annoyingly mannered Another Green World crib contributed by Tanzer, but the atmosphere—at once more dank and less hermetic than previous outings—finally gives non-Gothamites a hint as to the Airlines' not-inconsiderable live charm..."
College Music Journal (November 11, 1992, Deborah Orr)
"'Steady Goes' combines cotton-mouthed, Sebadoh-y vocals with busily swirling guitars and simple, insistent riff, whirring cheerily in mid-air like a little hummingbird. 'No.2' is even sweeter, its rhythm stuttering and halting while the guitar plinks hopefully."
Rockpool ( 12/01/92, Mike Lee)
"'Steady Goes' is an infectious 60s British psychedelic-influenced rocker replete with spooky vocals and stiff guitar play. The B-side, 'No.2' (still got that Wire fixation, eh?) has more of a pop sensibility than the former, and again has that driving rhythm guitar. Speaking of which, both sides succeed at being good driving songs. It's just too bad I don't own a car."
---
Fresh from the success of this first Quixotic single, the Airlines crew dug into the cargo hold for the next single, "Talking About Talking" b/w "10,000 Days" (catalog number QX007-7). Like the tracks from the previous record, these were taken from the Excello sessions engineered by Chad.

The three-guitar assault that Airlines unleashed on their first Quixotic single was back in full force on the A-side. Joe Arcidiacono's bass and Tom Kelley's drumming provide the propulsive foundation, and the guitars weave together in a wonderful mass of sound.
The flip, '10,000 Days', was written by Arcidiacono and represented a different sound for the band.
---
Press Clips:
Chairs Missing (#mr. suit, October 1993, Scott Munroe)
"Why am I reminded of Crispy Ambulance meeting Velocity Girl halfway when I hear this band? Two very brooding songs. Sort of what you'd hear in your head if you were intensely reading a textbook at the New York Public Library. How's that for a comparison?"
Second Skin (#6 Winter 1994, Alyssa Isenstein)
"Another fine single by Airlines. I've decided that Airlines would be a great band to write theme songs for merry-go-rounds... If this was a just world, Airlines would be a lot bigger than they are because they have released several top-notch singles, and this one is the best yet."
ND (#18 Spring 1994, Daniel Plunkett) "'Talking' is fairly direct pop riff and '10,000 Days' is a charmer which seems to dance around some old Eno song in my head. Quite nice and worth checking out for you that like intelligent and thoughtful guitar pop."
---
Their fourth 7" record now under their belts,Airlines took off once again to the depths of Brooklyn to record tracks for a proper album. With the faithful Chad again in the engineer's chair, the band would spend three solid days recording and eating Chinese food. The resulting tracks were assembled (along with the previously released Quixotic singles and some live cuts) into the monster collection titled, simply, "Airlines" (catalog number QX011-CD).

Thus the shiny compact disc neatly contained Airline's best recordings: "Empathy Box," "Deja Vu," "Ad Infinitum," and "Manitoba" (all of which included viola, courtesy of Jamie McEwen);
"Still Life," "Remote Color," (an old Jim Quinlan gem) "Interval," "Weekend," (recorded live at Excello for a broadcast of WFMU's Live Music Faucet).
"Manitoba", which was penned by Arcidiacono, was recorded live at Sub Rosa, Quixotic's basement rehearsal studios on 3rd street and 2nd Avenue.
The tracks were mixed by Ryk Oakley (best known as the producer of Kraut) at Saatchi & Saatchi's 24-track in-house studio, which was a pretty cool place. KAO Optical, formerly American Helix, pressed the CDs up and they were sent out into the world to spread the sound of Airlines...
---
Press Clips:
Baby Sue (#17 Summer 1994, Stephen Fievel)
"Absolutely stellar, shimmering, perfect pop music. Those folks at Quixotic have a better roster of bands than just about anyone around. Airlines are a totally unpretentious rock band with a rather minimal sound and real talent in the studio. The guitar work on this disc would make any mother proud. Add to that overwhelmingly incredible tunes and you've got a topnotch band to knock 'em all dead. These melodies are just TOO good!"
CMJ New Music Report (#381 May 23, 1994, Steve McGuirl)
"New York City's Airlines have been around in ever-changing forms since the late `80s, recording singles for various small labels and sharing members with other New York area bands such as the Mad Scene, Speed the Plough, The Giant Mums, Lid and the Ex-Lion Tamers. Although Wire is a definite reference point throughout Airlines, the influence never becomes distracting; instead, what continually grabs the listener's attention is Airlines' impressive mastery of textured arrangements and three-guitar dynamics. Over throbbing basslines and the sparse, steady drumming of Tom Kelley, the guitars intricately weave clean, arpeggiated chords around simple, precise, sometimes nearly droning, melody lines. The overall effect of this calculated, cerebral approach recalls Television, or even the Velvets, without actually sounding like either band...tunes like 'Deja Vu', 'Interval' and '10,000 Days', among others, continue to impress even after repeated listenings."
The Big Takeover (#35 July 1994, Jack Rabid)
"Add Airlines to the list of promising New York bands (at last there is a small crop). Theirs is a sprightly minimalist pop, the occasional one-chord drone uplifted by loping bass, bopping snare hits, and caustic guitar lines that encircle that steady bass. The playing is crisp-former KRAUT producer RYK OAKLEY gives them a tight mix-and simple but effective ideas run all over spaces this economical quintet leaves. Like the late `70s Wire, to whom they might be compared (as well as all the U.S. West Coast pop minimalists they inspired, such as the Urinals/100 Flowers, Sleepers, Flyboys, later Middle Class), nothing is chunky, yet the sound has depth, and the post R.E.M./Libertines plucked guitars never fail to invigorate and take unexpected paths... Investigate."
Chairs Missing (#"Mannequin" August 1994, Scott Munroe)
"...their minimalist-pop sound is a definite breath of fresh air in an increasingly hard-rock music scene."
The Trouser Press Guide to '90s Rock (1997, Ira Robbins)
"Something like a better-adjusted feelies with loosened wigs or Yo La Tengo on a coffee rush, New York's Airlines perforates its brisk, understated rhythm guitar pop with pure, sustained distortion leads. In "10,000 Days," the effect recalls Robert Fripp's evanescent sound paintings. Singer/Guitarist John Tanzer (ex-Ex Lion Tamers, the Wire cover band that toured with its idols in 1987), guitarist/singer Joe Arcidiancono and guitarist John Neilson all write, which provides a degree of stylistic diversity within the the quintet's relatively narrow framework....Neilson's "Steady Goes" is gorgeous and intense, with a folky undercurrent; Arcidiacono's "Interval" bends the Feelies influence back to one of its sources—Television—and Tanzer's "No. 2" owes some of its herkyjerk rhythm to early Talking Heads."

Airlines on the rooftop of the old Saint Mark's bathhouse
(later Kim's Video, nowadays who knows?), 1993. L-R: Tom Kelley, John Tanzer, Joe Arcidiacono, David Roby, and John Neilson.

It seems like a thousand centuries ago, but the Airlines were riding the comet into the furthest reaches of space, whatever that means. The band racked up live appearances with Band Of Susans, Tall Dwarfs, and a host of other local and 'major' acts (including appearances at the last two Brooklyn Woodstocks), as well as airing live radio performances on WNYU, WFMU's Live Music Faucet, and NY Public Access TV (Generation TV). Airlines also contributed a scorching version of "Point That Thing Somewhere Else" to the Dark Beloved Cloud tribute compilation for NZ indie greats The Clean. In a word, amazing!

All of this, however, was not enough to keep the band from imploding just a few years down the road, leaving behind these fine recordings. John Neilson, John Tanzer, and David Roby would later play in the Wharton Tiers Ensemble, while Tanzer, Arcidiacono, and Kelley would re-group as Nickel Hex.

Be sure to check out the official Airlines Webpage.
---
Copyright (c) 1992-2013 Quixotic Records NYC
Last Modified: January 23, 2013