Lid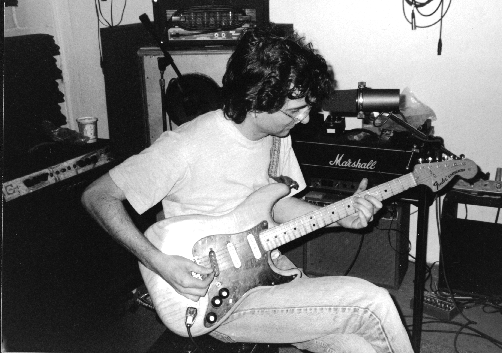 Above: Jim Quinlan recording at Fun City, NYC, 1995.

Deanne Draeger - Bass
Jim Quinlan - Guitar & Vocals
David Roby - Drums & Percussion

Lid was formed in March of 1992 by Jim Quinlan (who had most recently been playing guitar in Airlines) with David Roby (of The Giant Mums) as a side project to try out a few of Jim's ideas. Dave wanted to try playing drums and Jim was kind enough to give him a chance. Early rehearsals at Context down on Avenue A demonstrated the need for a bass player, and the search was on. One night at the old Knitting Factory (when it used to be on Houston Street) Jim ran across Deanne Draeger who didn't play bass but was willing to learn. Perfect!


Below: Deanne Draeger at Fun City (with Dave in the background).
The trio started recording immediately on Dave's old 8-track ree-to-reel machine, in the band's rehearsal space--upstairs from the American Communist Party HQ on 25th Street & 11th Avenue. The first release by the band was the "Ivy" four-track EP. It defined the band's sound, which has been described as "undistorted grunge"--as good a description as any.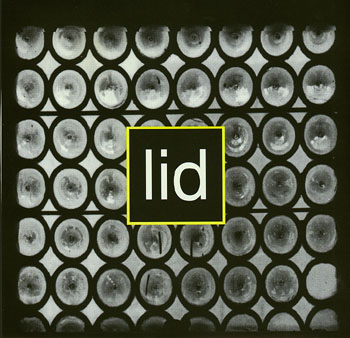 "Ivy" 4-track 7" EP
(catalog number: QX002-7)
Track List:

Ivy
Cage
Hit The Silk
Bloomsday
Personnel:
Deanne Draeger - bass, vocals on "Bloomsday"
Jim Quinlan - guitar & vocals
Dave Roby - drums
Recorded and mixed on 8 tracks at the
"Conboy Building" Space, NYC, in April and June, 1992.
---
Press Clips:
ND (#17 Spring 1993, Daniel Plunkett)
"The overall sound here reminds me of the charming DIY singles which have cropped up time to time, although it is rare to find those that you can eat up like this. A garagey guitar drone with thick bass and drums. Anyway, great stuff."
Outlet (#? Spring 1993, Trev Faull)
"Deliberately lo-fi (EP) by ex-Airlines player Jim Quinlan ...'Bloomsday' will haunt you in the kind of way that Echo & the Bunnymen first did with 'Pictures on my Wall'."
Chairs Missing ( January 1993, Scott Munroe)
"Sparse and as non-distorted grunge as you can get. A live recording in the band's rehearsal space may not make much sense to you but...it adds to the feeling of the EP. Yup, much like those Rough Trade/Cherry Red acts I have to compare it to but you don't know."
---
---
Lo-fi being all the rage, they decided to actually spend some money and record next at Wharton Tiers' Fun City studio. Two songs from those sessions produced the second single, "Coney Island." Besides the improved sound quality, the major evolution on this single is that Deanne and Dave had gotten much better at playing their instruments.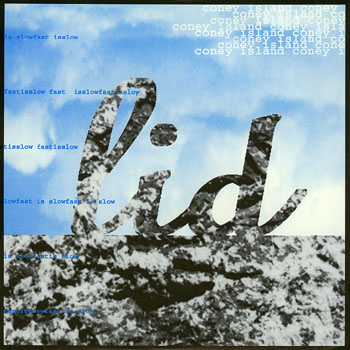 "Coney Island" b/w "Fast Is Slow"
(catalog number: QX005-7)
Recorded on 16 tracks at Fun City, NYC,
by Wharton Tiers. Produced by Lid with
John Tanzer and Wharton.
---
Press Clips:
Second Skin (#6 Winter 94, Alyssa Isenstein)
"'Coney Island' is a great Velvet Undergroundy strum fed tune that is a steady as a horse and as stable as a concrete block. The evenness of this song is really quite something....This is a single that you would be doing yourself a favour by picking up."
ND (#18 Spring 1994, Daniel Plunkett)
"...an enduring and poetic track with a subtle guitar riff and Jim Quinlan's haunting vocals. 'Fast is Slow' is a more direct song which skates above the vinyl. Great stuff."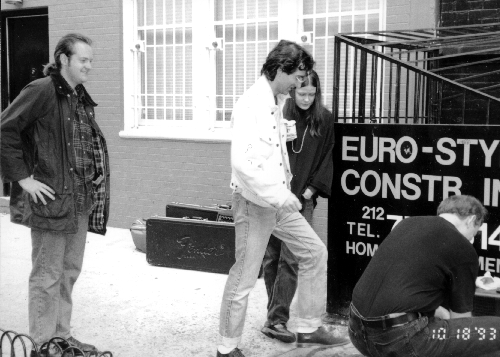 Above: Lid (in its final configuration) outside the Quixotic rehearsal space (aka "SubRosa") on East 3rd Street & 2nd Avenue, October 1993. L-R, David Roby, Jim Quinlan, Deanne Draeger, and John Neilson (who joined for a time on guitar).
Further recordings were done at studios like Toxic Shock (with James Kavoussi of Uncle Wiggly fame engineering), Sub Rosa, Fun City, New Lex, Saint Mark's, etc., but none of those sessions produced any tracks deemed worthy of release. Lid was then joined by Airlines guitarist John Neilson for a series of recordings and live shows (including the infamous "Quixotic in the Park" and "Jimapalooza" shows), and their sound was greatly expanded. The final Quixotic 7" featured one track with this new incarnation: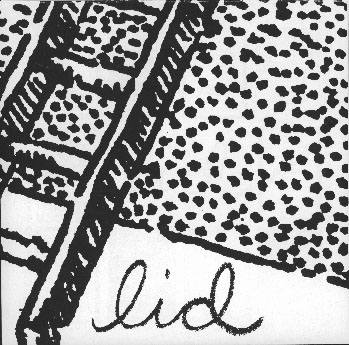 "Crow" 3-track EP
(catalog number QX016-7)
Track List:
Crow
Laundry
Postcard
Personnel:
Deanne Draeger - bass, vocals on "Laundry"
Jim Quinlan - guitar & vocals
Dave Roby - drums
John Neilson - extra guitar on "Postcard"
John Tanzer - extra guitar on "Postcard"
Recorded and mixed at Fun City, NYC, in 1995.
Before this record could really be released and promoted to the world at large, Quixotic was beginning to disintegrate. Eventually, Lid itself split up, with Dave and John joining the rejuvenated Wharton Tiers Ensemble, while Deanne and Jim continued on as a duo for some time thereafter.
This was a sad development as Lid had much more potential. There are countless recordings from live shows, rehearsals, and studio work still in the vaults. There are also several films by Jim Quinlan set to the band's music, and a video of the band playing in Central Park. Perhaps one day there will be a boxed set...
---
Copyright (c) 1992-2013 Quixotic Records NYC
Last Modified: January 23, 2013