Halcion

"Squelch" b/w
"With Biology Of No Importance"
Original catalog Number: QX008-7
Dorit Chrysler - Vocals, Guitar
Chad Swanberg - Guitar
Jason Frangos - Bass
David Soloff - Drums
Recorded & Mixed at ExCello, Williamsburg, NY. "Squelch" was recorded by Halcion and Ed Douglas,
mixed by Ed Douglas. "With Biology Of No Importance" was recorded and mixed by Halcion.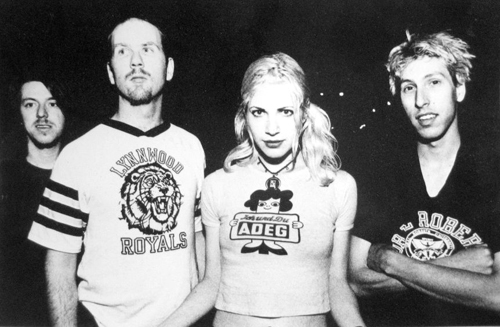 Halcion came into the Quixotic fold through Chad (second from left), who had engineered several Airlines sessions at Excello Studios in Brooklyn and who had also played bass briefly with the Airlines. This was definitely the heaviest slab of vinyl we ever put out, and it had the most expensive cover art to print! But it was all worth it as Halcion went on to some measure of fame. Check out Jason Frangos' webpage as he has been busy--and Dorit's as well(she's now known as the "Theremin Queen of New York City"!)
Press Clips:
Buzz (#97 March 1994, Eddie Shore)
"Driven by the powerful guitar playing of Chad Swanberg and the equally powerful voice of Dorit Chrysler, Halcion is a pleasant surprise. Both songs are good; guitars float and sting, the rhythm section is solid and the singer rules."
InformationDirekt (1996)
"Making a noise that would be considered bordering on the limits of what is bearable even by New York standards, Halcion mix up heavy guitar sounds with lyric songs. Odd harmonic passages are swallowed easily by whirlwind like rhythms, spiked with throaty screams, giving way to a subtle, eloquent whisper and all that produces a haunting, dangerously sensual energy. Halcion are the proverbial calm before the storm which launches you into the stratosphere."
---
Copyright (c) 1992-2010 Quixotic Records NYC
Last Modified: February 28, 2010