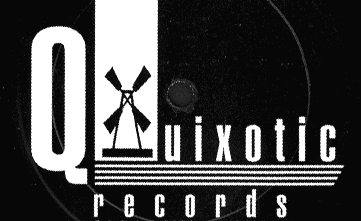 18th Dye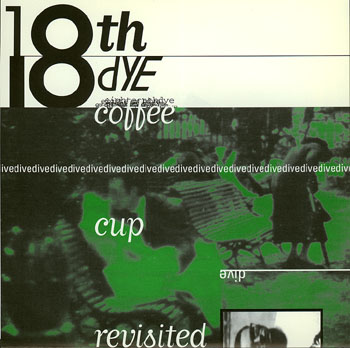 Piet Bendtsen - Drums
Heike Rädeker - Vocals/Bass
Sebastian Büttrich - Vocals/Guitar

18th Dye were a Berlin-based trio. Originally they were supposed to release something with Matador Records, but there was some sort of unavoidable delay. In the meantime, two tracks from the band fell into the hands of Bob W.--of Triage fame--who was preparing to launch a new label of his own called "Dot Dot Dash." Bob offered them as a co-release to Quixotic. In the usual laid-back fashion, the powers-that-be at Quixotic HQ said, "Hey, why not?" and "Coffee Cup Revisited" b/w "Dive" (catalog number QX013-7) was quickly pressed up.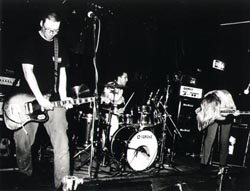 The College Music Journal, the big trade mag for the college radio stations, got ahold of a copy, and here's what they had to say:
"After its debut LP Done received Jackpot! status in Overseas back in June, German/Danish conglomerate 18th Dye sees its first domestic release in this single. The repetitious guitar line and steady rhythm of 'Coffee Cup Revisited' recall underdogs the Perfect Disaster, the male vocals echoing the steady flow of sound and a hard-nosed guitar hook giving the song breadth. With its soft female vocals, 'Dive' on the flipside reveals the band's slower, moodier side, with a fuzzy guitar line stealing the stage from the vocals during the song's middle portion." (Lydia Anderson in the September 5th, 1994 issue.)
This was to be their only Quixotic release, but it made us happy. The rest, as they say, is history. For more information--check out the discography available at the Matador website, and be sure to stop by the official 18th Dye home page.
---
Copyright (c) 1992-2013 Quixotic Records NYC
Last Modified: February 28, 2013